Posted:
Thursday, February 16, 2023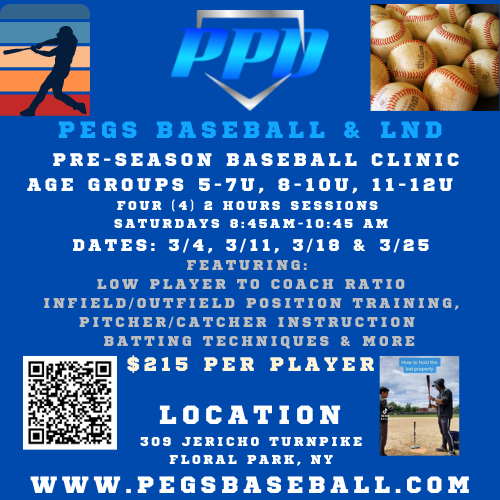 PEGS  ANNUAL LND PRE-SEASON CLINIC
 4 Sessions
Age Groups: 5-7U, 8-10U & 11-12U
Saturdays 8:45 am-10:45 am
March 4, 11, 18***, 25***
$215 PER PLAYER  
***Please note March 18 & 25 ssessions will be 8:30-10:30am
 

Location: 
309 Jericho Turnpike 
Floral Park, NY 
Click on the REGISTER button at top of page or use QR Code
Pegs Player Development Pre-Season clinic is designed to help our young athletes prepare to be game ready when they step on the field this spring. We will be reinforcing correct movements and motions while maximizing reps. Just as it is important to develop physical skills and athletic abilities, it is equally as important to develop a mental understanding of what it means to be a baseball player and on a team. This area of athletic development will be accomplished with baseball activities to instill good character, goal setting and an understanding of teamwork and team.
PEGS Player Development Clinics are designed for players of all skill levels, whether you're a young player learning basic skills or an older player looking to improve their overall  game. 
PEGS Positive Environment is key for players to learn each and every day of our camps. We strive to make it a fun and a collective team environment for all players. PEGS will use groups based on age and skill specific groups to allow the proper instruction to create more confident players and also will help an individual player if they are having difficulty with a skillset too. 
PEGS Basics and Fundamental Approach allows players to work on their fundamentals in throwing, catching, fielding, hitting, baserunning and specific position(P, C, INF, OF) instruction too.
PEGS Reps and Game Situations are covered at each of our clinics. We always have a low coach to camper ratio which offers each player direct attention along the way of having a learning positive day with PEGS. Daily contests of course are included too.
Click on the REGISTER button at top of page
Below you will find what is required/recommended for your young athlete for a successful clinic:
All athletes are required to have their own hat, glove & water bottle.

Please put your young athletes name on all their equipment, as some players tend to have the same equipment. 

Athlete recommendations are to dress comfortably (baseball pants or shorts are acceptable).

We usually encourage athletes to bring whatever they think they will need. You can send spare clothes for them to change into.

All players are required to get signed in and signed out each day.